UMC is a 300mm manufacturing leader with several advanced 300mm fabs in operation.
UMC is a 300mm manufacturing leader with several advanced 300mm fabs in operation. Fab 12A in Tainan, Taiwan has been in volume production for customer products since 2002 and is currently manufacturing products down to 14nm. The multi-phase complex is actually three separate fabs, consisting of Phases 1&2, 3&4, and 5&6. Fab 12A's total production capacity is currently over 75,000 wafers month. UMC's second 300mm fab, Fab 12i, is located in Singapore's Pasir Ris Wafer Park. This second-generation 300mm facility is also in volume production, with capacity at 50,000 wafers per month.UMC's newest 300mm fab, Uited Semi in Xiamen, China, began volume production in Q4, 2016. The total design capacity of Uited Semi is 50,000 wafers per month when fully equipped.
UMC's geographically diversified 300mm manufacturing throughout Asia means customers can mitigate their manufacturing risk while still maintaining production within the same region to ensure seamless engineering support from UMC's Taiwan headquarters.
Competitiveness through Productivity
300mm wafers have over twice the usable area as 200mm wafers, delivering productivity advantages of up 2.5 times the number of chips. This translates directly into greater competitive advantages for our customers. UMC's 300mm facilities utilize state-of-the-art computer integrated manufacturing (CIM), which together with our extensive 300mm experience, has allowed UMC to achieve 300mm yields and cycle times comparable to our 200mm manufacturing.
Larger Die Sizes More Efficiently Utilize 300mm Wafer Area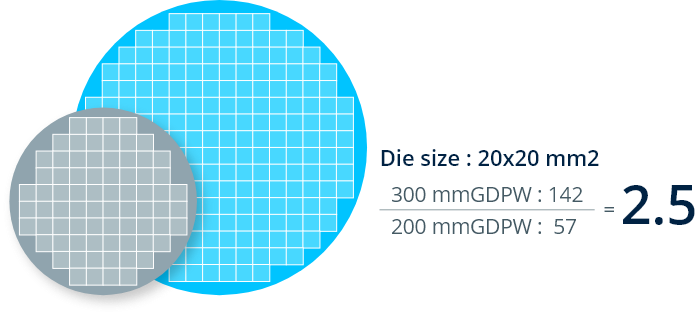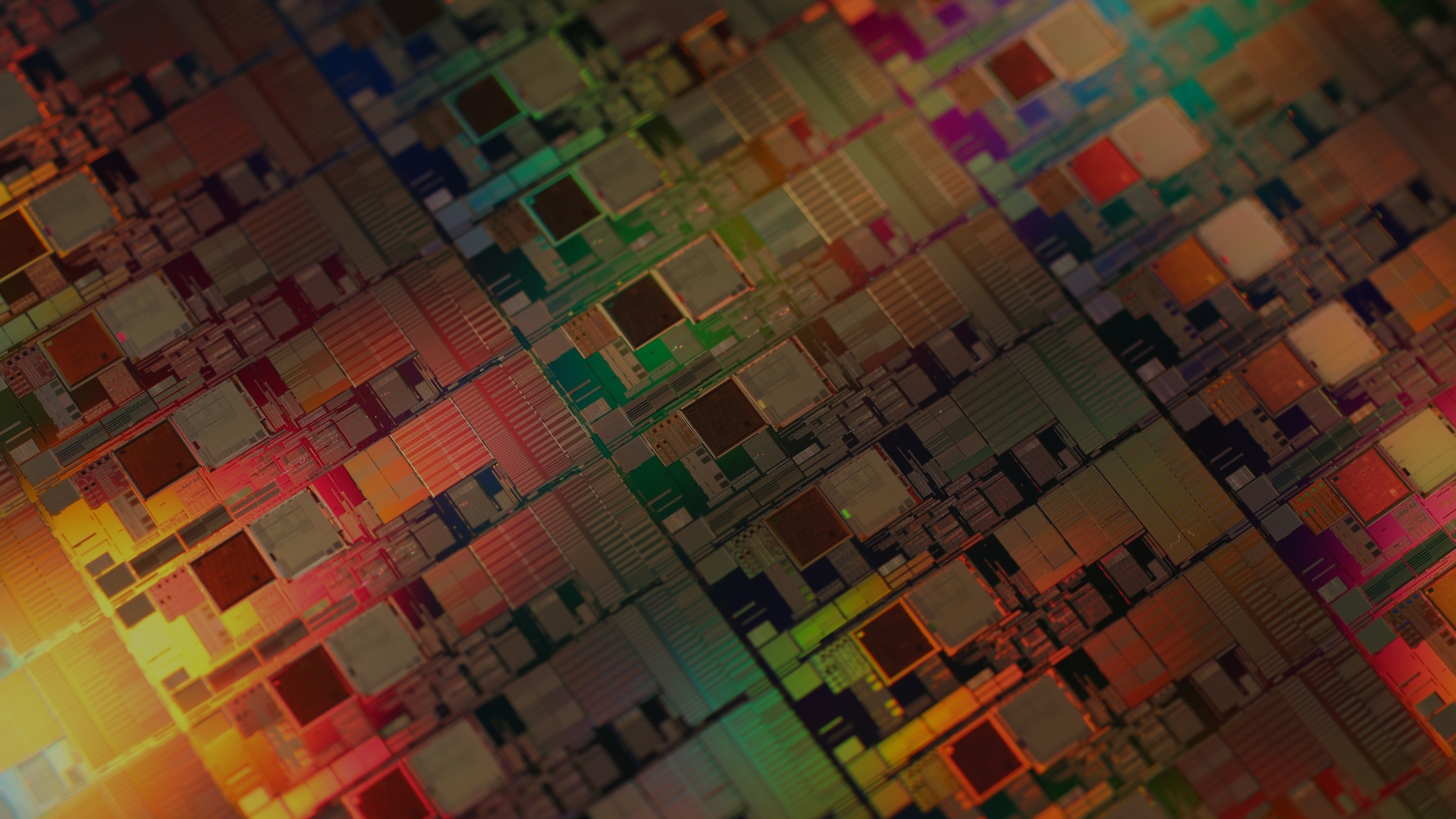 Advanced Automation
Wafers are transported automatically in a Front Opening Universal Pod (FOUP) that has a capacity of 25 wafers. In addition, lot movement is executed using Automated Material Handling System (AMHS) for interbay moves, which hand off the FOUPs to Rail Guided Vehicles (RGV) for intrabay moves. This system is typically around 3 to 4 times faster than the standard Automatic Guided Vehicle (AGV) intrabay system common in 200-mm fabs. Our newest 300mm fabs also feature equipment-to-equipment communication technology to further increase operating efficiency.
Ultimately, UMC's leadership in 300mm production results in increased cost-efficiency and faster time to market for our customers. As die size increases with more and more advanced technology features being integrated into today's system on chip (SOC) designs, these factors become increasingly important for companies to maintain their competitiveness.
300 Fab Automation- UMC responds to the rigorous requirements for manufacturing efficiency, flexibility, and control with state-of-the art automated systems featuring Front Opening Universal Pods (FOUPs), Automated Material Handling Systems (AMHs), and overhead Rail Guided Vehicle (RGV).
Wavetek (WTK)

Wavetek (WTK)

Process : 3.5um - 0.45um

Design Capacity : 50,000 wafers/month

Wafer Size : 6"

Location : Hsin-Chu, Taiwan

Fab 8AB

Fab 8AB

Process : 0.5um - 0.25um

Design Capacity : 70,000 wafers/month

Wafer Size : 8"

Location : Hsin-Chu, Taiwan

Fab 8C

Fab 8C

Process : 0.35um - 0.11um

Design Capacity : 29,000 wafers/month

Wafer Size : 8"

Location : Hsin-Chu, Taiwan

Fab 8D

Fab 8D

Process : 0.13um - 90nm

Design Capacity : 32,000 wafers/month

Wafer Size : 8"

Location : Hsin-Chu, Taiwan

Fab 8E

Fab 8E

Process : 0.5um - 0.18um

Design Capacity : 35,000 wafers/month

Wafer Size : 8"

Location : Hsin-Chu, Taiwan

Fab 8F

Fab 8F

Process : 0.18um - 0.11um

Design Capacity : 32,000 wafers/month

Wafer Size : 8"

Location : Hsin-Chu, Taiwan

Fab 8S

Fab 8S

Process : 0.18um - 0.11um

Design Capacity : 25,000 wafers/month

Wafer Size : 8"

Location : Hsin-Chu, Taiwan

HeJian (Fab 8N)

HeJian (Fab 8N)

Process : 0.5um - 0.13um

Design Capacity : 50,000 wafers/month

Wafer Size : 8"

Location : Suzhou, China

Fab 12A (12-inch Fab)

Fab 12A (12-inch Fab)

Process : 0.18um - 14nm

Design Capacity : 82,000 wafers/month

Wafer Size : 12"

Location : Tainan, Taiwan

Fab 12i (12-inch Fab)

Fab 12i (12-inch Fab)

Process : 0.13um - 40nm

Design Capacity : 45,000 wafers/month

Wafer Size : 12"

Location : Singapore

United Semi Fab 12X (12-inch Fab)

USCXM Fab 12X (12-inch Fab)

Process : 40nm - 28nm

Design Capacity : 50,000 wafers/month

Wafer Size : 12"

Location : Xiamen, China

USJC Fab 12M (12-inch Fab)

USJC Fab 12M (12-inch Fab)

Process : 90nm, 65nm and 40nmm

Design Capacity : 33,000 wafers/month

Wafer Size : 12"

Location : Kuwana, Mie, Japan