Diversified Packaging Solutions
Diversified Packaging Solutions for IoT, Automotive Applications
Experienced Wire Bond, Bump, Stacked Die, WLP Turnkey Service
Qualified 2.5D, 3DIC, FO Solutions for Advanced Package Demand







Development Methodology
Today's advanced process and package technologies pose challenges to SoC, SIP, and 3D-IC designers in terms of reliability, cost, and performance. UMC has partnered with industry-leading vendors to effectively address these challenges and provide solutions. Customer can benefit from resources such as established and verified design rules, verification of low-K wafer materials and structures, optimized package materials and parameters, and enhanced reliability performance. Sophisticated test vehicles are another advantage achieved through UMC's methodology.
Customer endorsed qualification flows and Specs

Verified Package Solutions
UMC also works with world leading packaging houses to provide silicon proven packaging solutions. Starting from test-chip and technology development with assembly support through its packaging partners, the silicon proven packaging solutions can meet the requirements of demanding designs, meet stringent qualification criteria, and ensure reliability for sophisticated chips such as those utilizing ultra low-K and low-K dielectric materials for Cu interconnect. All vendors are ISO9000 certified and must meet UMC set criteria regarding yields and cycle time.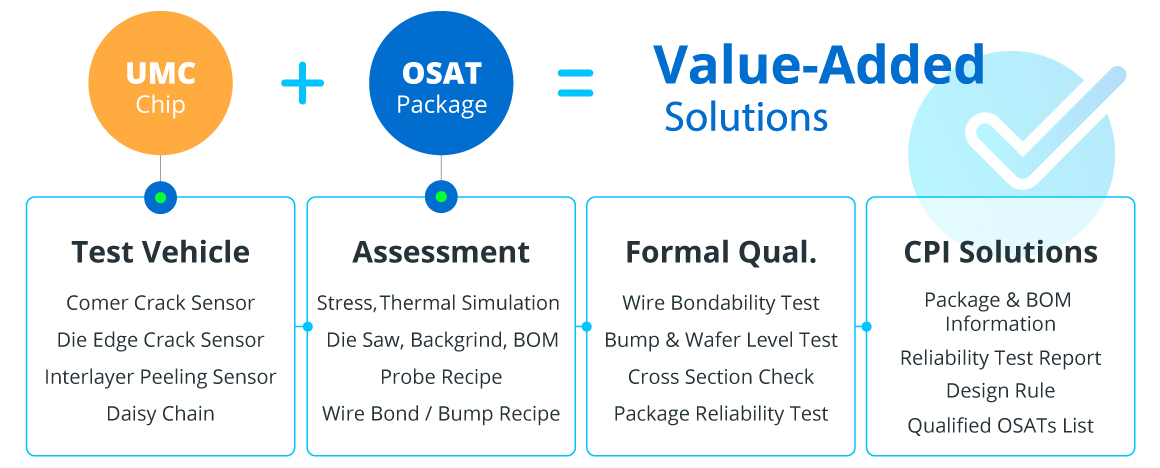 Wire Bond (BOAC)
| Technology node | 14nm & above Availability |
| --- | --- |
| Wire | Au / Cu / Ag |
| Diameter | 0.6 / 0.7 mil |
| Pitch | 40 / 45µm |
Bump / Flip Chip
| Technology node | 14nm & above Availability |
| --- | --- |
| Bump | |
| Pitch | |
| Structure | BOT* / BGA / CSP/ WLP |
2.5D Interposer Solution
UMC has introduced the world's first dedicated Open Ecosystem TSI Foundry Solution. We provide an open ecosystem model that includes the entire supply chain, and is ready for volume production. UMC has won an "Outstanding Performance Award" from one of our customers for production proven, mature and Excellent 2.5D Production Capability.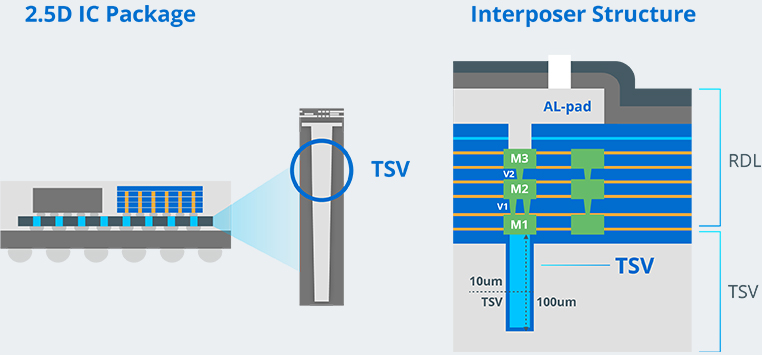 UMC Open Ecosystem Approach: UMC cooperates with Tier 1 OSATs to provide 2.5D TSI wafers to successfully provide a proven Open Ecosystem Supply Chain.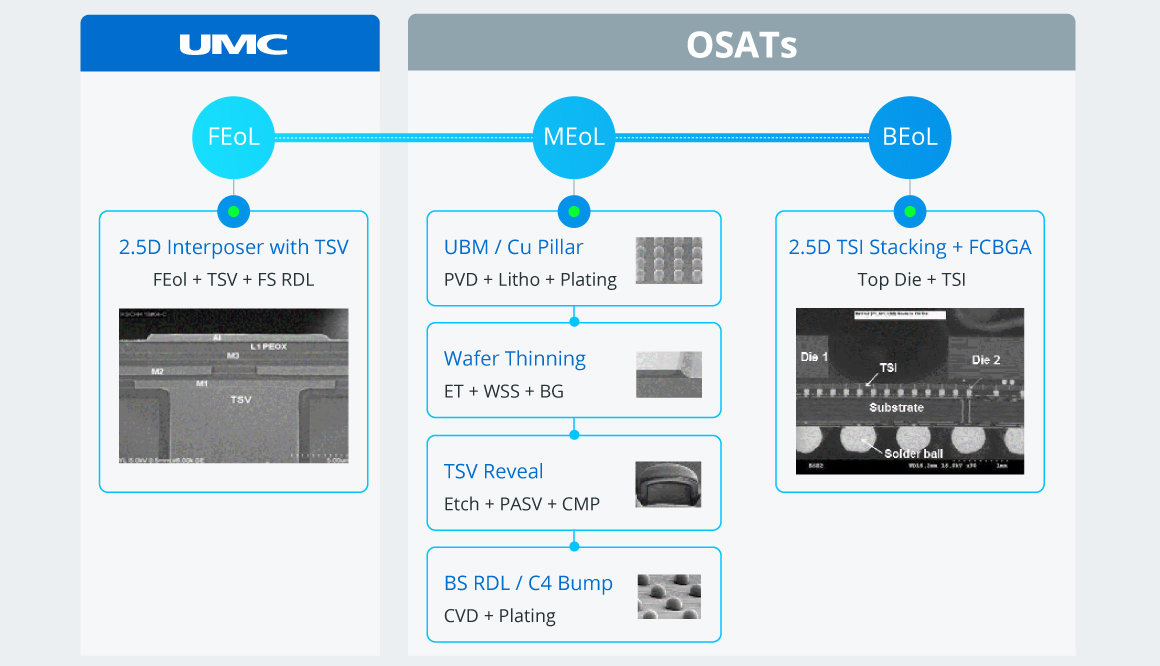 Test / Package Partners
UMC's major test and package subcontractors are located in Taiwan and throughout Asia. The close proximity of UMC's partners to UMC's own facilities creates synergies that enable faster service and greater flexibility.