Value Added Backend Services
Provides
Complete
Backend Solution
Open Backend Services
UMC provides customers with a comprehensive backend service scope. While all these services shown above are available, all checks after wafer processing are covered by the backend service scope, including bumping, wafer sorting and yield management. Full turnkey services cover packaging and final test.
To increase efficiency and leverage the core competencies of our partners, instead of building our own bumping fab and assembly line, UMC delivers full backend services through close partnerships with customer preferred OSATs. This flexible business model provides customers with multiple options to meet their backend requirements.
As a backend turnkey service to customers, we also run a proactive yield management system to continuously improve product yield when UMC manufactures your wafers. This value-added competitive advantage is above and beyond what is performed at a traditional testing house.
UMC Backend Service Model
While customer selects UMC as the foundry partner, multiple backend service options are available to meet various customers' requirements. We operate on an open architecture service model that provides various flexible turnkey solutions. UMC could provide specific customized working flows with customer preferred OSATs, or only run inhouse CP sorting. As well, we implemented comprehensive quality assurance system for OSAT management to ensure customer products backend quality.
We are well experienced in providing short turnaround time for backend operation, as well as timely yield feedback to enable high quality yield enhancement.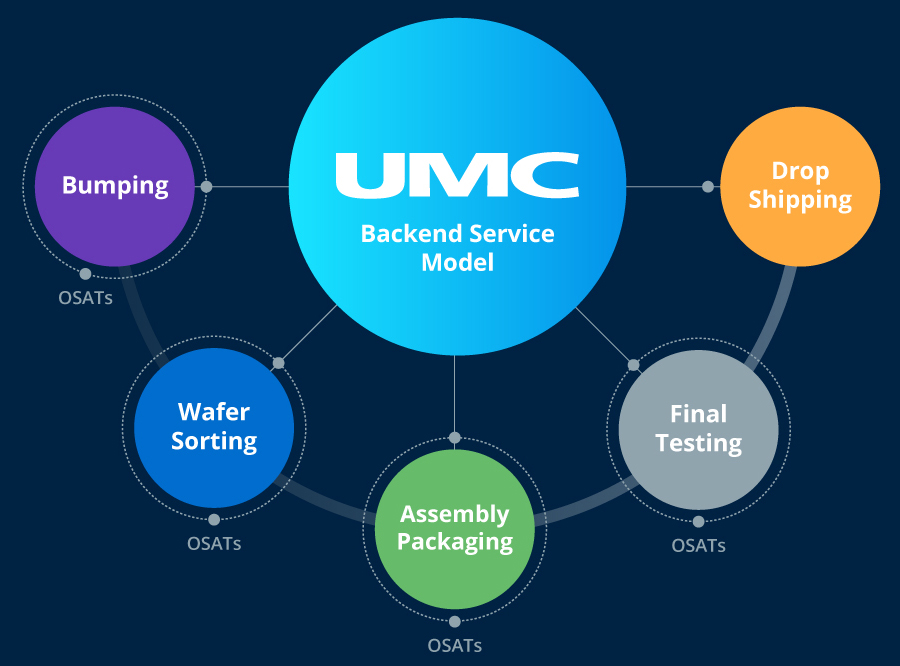 Excellent Total Solution for Turnkey Service
Advantages for Turnkey Services
Reduce Operating Resources & Efforts for OSAT Management

Share Inhouse Capacity Loading & Reduce CAPEX Investment

Earn Competitive Cost, Performance & Continuous Yield Improvement